Timmy Tucker to ****************@***********.org
Hi there! I have season parking passes to the game and would be willing to give up my parking pass for this one because I am taking a cab to the game. I will sell it for $25.
I scanned a picture of it here if you are interested: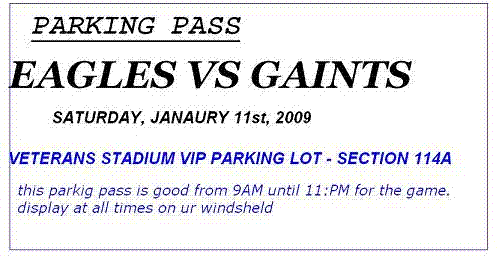 Please let me know!
Go Eagles! Fuck the Cowboys!
- Tim
MATTHEW *************** to Me
Hey that sounds great! Do you think that maybe you could get me one for my friend too? He is going to the Carolina Arizona game and if you could get one for him, I would gladly give you 60 for the pair.