From Me to **********@********.org:
Hey,
I am leaving for London on business and need to sublet my studio apartment immediately. It is a beautiful spacious apartment in the East Village (near Tompkins Square Park). Rent is $1750/month and you can move in as soon as February 25th. Please let me know if you are interested.
Regards,
Mike
From Ari ****** to Me:
Hi Mike thanks for responding. A few questions: how big is the apt? how long can is the lease til? do you have any pics or a floor plan? I want to move in on mar 15- is that ok?
From Me to Ari ******:
March 15th is fine with me. The apartment is 370 square feet. I don't have any pictures, but I have included a floor plan to give you an idea of the layout of the apartment. The lease is up in November 2011, but you have the option to renew if you wish. Please let me know if you have any more questions about the apartment.
Mike
Attachments: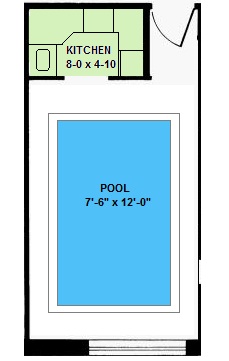 From Ari ****** to Me:
Mike did you send me the wrong plan or is there really a pool in your apartment.
From Me to Ari ******:
Oh, yes. I should have mentioned the pool. I had an exercise pool installed in the apartment because I was training for a swimming marathon. It is a really nice pool. It is 39 inches deep with powerful jets and a vinyl liner. The pool is great if you like to swim.
Mike
From Ari ****** to Me:
Thats a pretty important thing to forget to mention, doncha think?! It takes up the whole f-ing apartment! How is there no bathroom?? Where am I supposed to shower and sleep?
From Me to Ari ******:
I know, it is a really nice pool. I usually use the kitchen as the bathroom. You can either pee in the sink, or out the window. The window overlooks an alley behind 5th St, and most of the time nobody walks below you. Even if you do piss on someone, you are on the 7th floor so they will probably have no idea where it came from. By the time it hits them, you will most likely be zipped up and have the window shut. The sink has a garbage disposal in case you need to take a dump.
Showering? You don't need to shower - you have a pool! Just go for a swim any time you are trying to wash off.
Sleep? I've got that covered too. I have an extremely comfortable pool raft I sleep on. It is like sleeping on a waterbed! It has a couple of cup holders you can put your phone/keys/beer/whatever in. I'll include this with the apartment for an extra $10.
I am free tomorrow if you want to check the place out and fill out the sublet papers.
Mike
From Ari ****** to Me:
Hmm well yes that does sound nice, but I am looking for a place where I dont have to shit in my sink and sleep in a goddamn pool. Come on man! Good luck finding someone to rent you'll need it!
From Me to Ari ******:
You don't have to shit in the sink, it is just an option. You can also shit out the window, or shit in a bucket next to the window and dump it out the window. There is an Indian restaurant that backs up to the alley, so it already smells like shit down there.
At least come over and try my raft before you decide that sleeping in a pool is a bad thing. I'll even throw in a couple of pool noodles for free.
Mike
From Ari ****** to Me:
Stop trying to sell me your POS apartment, if you can even call it that. You know what makes an apartment an apartment? A bed. Bathroom. Furnature. NOT A FUCKING POOL.
Why am I arguing with you? This is fucking ridiculous. Conversation over.
From Me to Ari ******:
Why are you so afraid of sleeping in this pool? Be honest, do you not know how to swim? If so, I can give you the number of a good lifeguard I know.
From Ari ****** to Me:
Shut the hell up. I hope you drown in your pool!