From Me to *********@*********.org:
Hey there,
I am just starting my career as a graphic designer and have helped design several ads featured in various magazines. I would be happy to help you with your ad. Can you tell me what you had in mind?
Thanks,
Mike
From Lucy ******* to Me:
Hi Mike! I own a new hair salon for men called Sporty's Haircuts. The ad will be 2 inches by 4 inches and featured in the local newspaper. We don't have a logo or slogan. The ad simply needs to say the name of the business, and our address and phone number:
124 South ****** Ave
(***)-***-****
It needs to be attention-grabbing and also include a graphic related to haircuts. I don't have any images so you will have to design them. Please don't have anything boring (i.e. a graphic of scissors.)
Thank you so much for your help!
Lucy
From Me to Lucy *******:
Sounds good, Lucy. I'll get back to you within a day with the proposed ad for your review.
From Lucy ******* to Me:
Great. Thank you Mike!
From Me to Lucy *******:
Lucy,
I have attached the first draft of the ad. Please let me know what you think.
Mike
Attachment: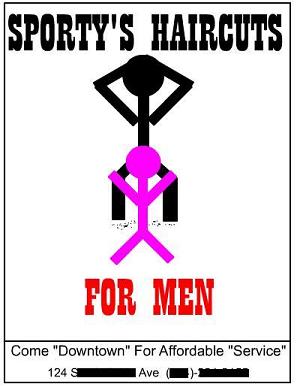 From Lucy ******* to Me:
Mike, I don't completely understand the ad. Could you please explain what you were going for with that graphic?
From Me to Lucy *******:
Lucy,
It is a man admiring his new haircut while a woman is crouching down to clean up the hair clippings on the floor below him.
Mike
From Lucy ******* to Me:
Oh. That's not what think when I look at it. It looks very suggestive to me. Why is "downtown" and "service" in quotes?
From Me to Lucy *******:
How is that suggestive? The only thing it suggests to me is that I will be getting a very admirable haircut and quality service. The fact that the woman is already cleaning up the hair clippings while the man is still in the chair suggests that your store is quick, efficient, and clean.
Downtown is in quotes because it is short for Downtown *******, and I put "Service" in quotes to suggest that you will be getting much "more" than a haircut, such as helpful employees, great deals, and friendly smiles. If you do not offer great deals or friendly smiles, then I apologize for the mistake and will remove the quotes from around "Service." Otherwise, I don't understand what your problem is with the ad.
Mike
From Lucy ******* to Me:
Cut the BS, Mike. You know exactly what you did. Are you going to keep wasting my time or design the real ad?
From Me to Lucy *******:
Lucy, can you please explain why you are unhappy with the ad? I can't make changes if you are being so vague about everything. Would you like me to have the woman holding scissors and a hair comb?
Mike
From Lucy ******* to Me:
Leave me alone.